Behind the scenes at QuantflixTV with Chauwei Yak
Cult video blog series QuantflixTV is showing its viewers what is going on in the hedge fund industry. Hedge Funds Club's Stefan Nilsson caught up with its star presenter Chauwei Yak in Singapore to find out more about QuantflixTV.
Chauwei Yak is the Founder and CEO of GAO Capital. After graduating from the University of Pennsylvania, she kicked off her finance career with stints at investment banks UBS and JP Morgan in New York and Tokyo. She then worked as Director of Research at Ortelius Capital in New York before founding GAO Capital, a data-centric asset management firm, in Singapore in 2008.
You have recently launched a fab series of video blogs about hedge funds called QuantflixTV. In the first episode, you say at the beginning: "I don't think there are a lot of people dying to know about hedge funds. It's not that interesting and fun of a subject, which we are going to try to change with this series." Is that what drives you, to educate and create interest in hedge funds among a wider group of people?
I want to let more people know that I'm doing something interesting and fun! When I tell people that I'm a fund manager, they will ask "what stock should I buy?" or "what bank do you work in?" and then walk away politely. Friends in wholesale meat distribution get more attention. Even lawyers and doctors (plastic surgery) get asked more for their contact information. Actually, someone asked me if we throw dwarves at the office. "The Wolf of Wall Street" wasn't even about hedge funds.
The show has a very casual, laidback style including the settings, costumes and camera work. Is this a calculated move to make it more accessible or is it just how it happens?
Well, there was no budget but I'm going to say this whole thing was deliberate. I did buy those ring light things to look better but it takes too much time to bring out from storage. I actually do have "regular" work to do as CEO of the firm!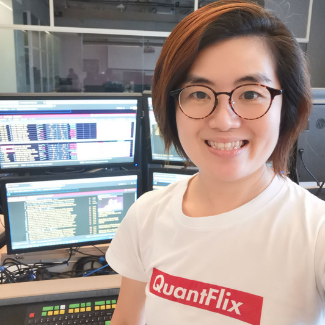 The QuantflixTV shirts are very stylish. Can we expect these to be sold to fans in an online shop soon?
My sister told me I gained weight during Covid. That's why the T-shirts look 'stretched'. I was just demonstrating that sizes run on the small side. I can't even get my staff to wear our company shirts (one says "GAO Team Gao Dim"), so not sure about selling merch.
You have a knack for including references to non-finance things, such as cheongsam shirts and Singlish accents, in your explanations of the world of hedge funds. You also explore the similarities between F1 teams and quant funds. Is this because you have learnt from your finance career that you need to make the conversation related to real people's lives rather than pushing abstract financial lingo that makes no sense in the real world?
It goes back to the above point about making myself – and what I do – interesting and relatable. Also, it has partly to do with the lack of budget in the costume department. I went to dinner with a quant fund manager friend and after taking a bite of the main course he said "The Sharpe of this place is low". He meant the food quality was not consistent. I don't recommend impressing your dates with the application of abstract financial lingo to the real world.
In your early episodes, you have covered topics such as quant investing in China, investing in unregulated hedge funds, measuring the performance of a long-only hedge fund and how to sound like an authentic hedge fund manager. How do you come up with the topics for QuantflixTV?
Someone has discovered that there is no system to this madness. Usually, I try to talk about something related to our funds, we have an Asia long-only equities fund, we have a China A-shares quant fund, and because we are regulated some clients tell us they know quant funds which are not regulated. I get a lot of inspiration from watching Netflix too.
What's the craziest topic idea you have come up with that you decided to reject?
What hedge fund managers tell you and what they really mean. An example is when they, or their IR, tell allocators "That's a really good question." I ended up canning that episode idea because I can't give away industry secrets. Like how magicians shouldn't reveal their tricks. I also did a video on evaluating 7-Eleven instant food thinking I could have a series as a food critic during pandemic lock-downs when people did not go out to eat. The episode never aired because my mom might get angry if she found out I ate so much "quick food".
What's the next step for your on-camera career? Are you in negotiations about doing an Asian version of "Billions" with you as a Singaporean version of Bobby Axelrod? If so, who would play Chuck Rhoades and Wendy Rhoades?
I'm in negotiations with a data vendor for a spin-off series to show The Real Hedge Fund Manager (in Singapore)! It will be about what people think we do, and what we actually do. Not with Netflix (yet). I can play all three characters of Bobby, Chuck and Wendy. I think I have some of each of them in me, except for the sales and marketing bit.
To stay with the "Billions" theme, does your firm GAO Capital have its own "Wags" whose job it is to, no matter what, get stuff done that Axe wants to happen?
The rest of the firm is focused on making sure 99% of the non-investment stuff I want to be done doesn't get done! Why do you think the office entrance looks like a bar with pink walls? My art piece of anime girls brandishing samurai swords is also somewhat disconcerting. At the end of the day, we just want to make money – for ourselves and investors – and we make the work environment conducive to open discussions and respect for different opinions.