Interview: Help For Children Asia's Vanessa Hemavathi on child-abuse prevention
With support from the finance industry, Help For Children provides grants to organisations that are working to prevent child abuse and treat those who have experienced abuse. Privium Fund Management's Vanessa Hemavathi, who chairs Help For Children Asia, talked with Hedge Funds Club boss Stefan Nilsson about her philanthropic work, Help For Children's support from the finance industry, the challenges of fundraising, the ESG impact on fund managers and what projects Help For Children has contributed to recently.
In addition to your day job at Privium Fund Management, you head up the Asian arm of the Help For Children as Board Chairman. How did you end up getting involved with Help For Children?
I have always been passionate about philanthropic work and was supporting a number of volunteer organisations in Singapore. After moving to Hong Kong, I was actively looking to get involved in the social sector in the city. I got to know Help For Children Asia in 2019 and was immediately drawn by its mission and approach to helping vulnerable children. I joined Help For Children as the Chair for Asia in January 2020 with the objective of bringing my industry peers together to give back to the community we live in.
Your organisation has a close connection with the hedge fund industry. The original name was Hedge Funds Care before it evolved to Help For Children. Was the name change driven by the organisation wanting to also work with corporate sponsors from other parts of the alternative investments such as private equity, venture capital and real estate?
HFC is still very much supported by hedge fund managers who remain committed to our mission. We adopted the name Help For Children in 2020 to have a more mission-focused name as well as broaden our donor base to include the entire alternative investment community, encompassing private equity, real estate and allocators. It's simple, the more money we raise, the more vulnerable children we can help protect.
Tell us about what people and organisations here in Asia are actively involved with your organisation.
The pandemic obviously made it challenging for us to raise money. However, we worked very hard to stay connected with our members and continue to grow our network. We finally hosted our first in-person event since the pandemic on 14th May at The American Club in Hong Kong. Even though it was an intimate breakfast with a mission panel led by our academic expert, Dr Clifton Emery, all tables were booked in just a few days. The event and the panel discussion were very well-received by all who attended. I would like to acknowledge my team who are all dedicated volunteers, who have been an integral component throughout this journey who made our efforts possible. Meanwhile, the Help For Children Affiliate Board for which I serve as Chair is made up of many alternative investment professionals who are well-respected in the finance community and committed to our mission. They are Carlyon Knight-Evans (Partner, Asset and Wealth Management, PwC), Basil Godellas (Partner, Winston & Strawn), Elliot Shadforth (Partner, Global Wealth & Asset Management, EY), Effie Vasilopoulos (Executive Committee Member, Sidley Austin) and Denise Wong, (Partner, Global Corporate & Investment Funds Group, Walkers Global). Stay tuned for our second "Breakfast with a Purpose" coming this September. You won't want to miss it.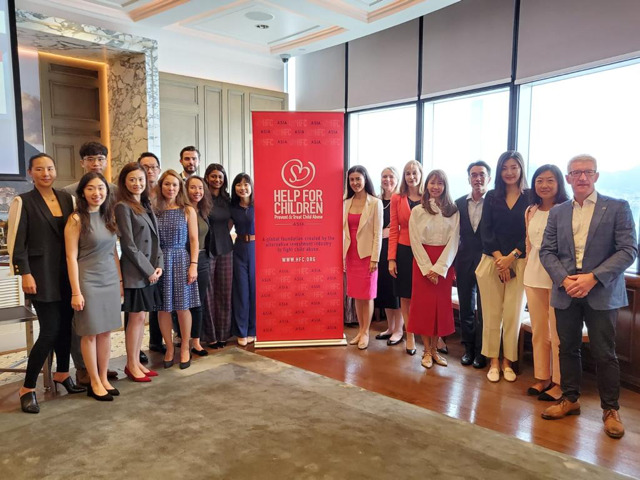 How do you raise money from professionals and firms in the alternative investments space?
Help For Children Asia raises money by hosting fun, high-quality fundraising events and community-spread local initiatives. For example, we started a peer-to-peer campaign called #Buildhope as we were unable to host in-person events, which has proven to be very successful. As a volunteer-driven organisation that spans 10 international locations, we utilise both colleagues and partners to contribute in any way possible to our cause. Together, we are unlocking much-needed private funds to make the world a safer place for vulnerable, at-risk children.
Can you tell us about the initiatives that you are currently focused on here in Asia?
We currently have started the grant process for the 2022-2023 grant year and are looking at some very interesting organisations with cutting-edge programs. We can't name them quite yet but some examples of our past grantees in Hong Kong include Against Child Abuse (ACA) and Hong Kong Society for the Protection of Children (HKSPC). The mission of ACA is to eliminate all forms of child abuse and neglect by promoting a caring and non-violent environment for the optimal growth and development of children. ACA provides the East Asia region with quality child protection programs of both remedial and preventive nature. HKSPC protects and safeguards children's rights and endeavours to build a "healthy, happy and safe" environment for children from all backgrounds. HKSPC currently operates 27 services units serving children aged 0 to 16 and their families and serves around 3,000 children and their families on a daily basis. Specifically, HFC funded the following programs: 1) ACA's Child Protection and Treatment Project – Happy Child Starting From Home. We supported a registered social worker/trainer to provide therapeutic groups for abused children, parent education programs for abusive parents, and professional child protection training. 2) We also funded HKSPC's Guardian Angels to Infants in CRH. We supported a program officer and social worker to provide services for children, 0-3, at the HKSPC Children's Residential Home and their parents.
How do you choose the good causes you support? I am assuming that you have to focus on a few projects rather than trying to help everyone?
Help For Children provides funds that support proven methods in child abuse prevention and treatment, and also acts as venture philanthropists by supporting promising new practices in the field. Each grant location has an independent grant committee made up of our dedicated local volunteers. With the guidance and consultation of a local social work academic expert, in our case Dr Clifton Emery of the Department of Social Work from the University of Hong Kong, the committee follows a very rigorous grant application and approval process that ensures measurable results. Unlike most grant-making foundations, Help For Children and its academic experts provide grantees with year-round consultation to ensure ongoing information sharing on best practices, consultation on program design and emphasis on evidence-based evaluation tools to achieve tangible results.
ESG is all the rage now. How is the increased ESG awareness in Asia impacting your organisation?
It has definitely made the fund industry more conscious of the importance and value of giving back. Furthermore, it has sparked targeted questions on the importance that allocators place on fund managers on ESG. Charitable giving, mentoring efforts and traineeships for disadvantaged students, are all essential pillars that Help For Children Asia encourages. In general, ESG has become increasingly important to be a part of a fund manager's investment strategy, with an increased awareness for demonstrating genuine commitment and priorities, especially in today's socioeconomic climate.
In addition to Help For Children Asia, there are several other NGOs that engage people from the alternatives industry for good causes such as women empowerment, cancer research and prevention, etc. Do you feel that the various hedge fund- and finance-related NGOs in Asia are supportive of each other or is there a battle for the attention of potential donors?
There is definitely room in our industry for making a positive impact in the lives of others. But keep in mind that raising money for child abuse – a cause that is often overlooked because it is considered a "taboo" topic or people feel they live in a wealthy and well-developed place like Hong Kong, therefore, there is no need for it – has its own set of challenges. Child abuse has no family constituency to advocate publicly because there is so much shame associated with it. This perpetuated the need to work a little harder and gives us the drive to break the silence for children who do not have a voice for themselves.