Hiroteru Nin talks about the evolving workspace needs of the finance industry
Japan's work culture is starting to change. Hedge funds, asset managers, fintech firms and other financial services organisations are slowly moving away from the old ways of presenteeism to focus on more flexible working arrangements and more productivity. Flexibility has emerged as a key area when it comes to attracting and retaining staff. The Hedge Funds Club's Stefan Nilsson had a chat with Hiroteru Nin, City Head of The Executive Centre Japan in Tokyo about the future of work.
You have spent the past 14 years of your career in the flexible workspace industry in Japan. How has the serviced office industry in Japan changed during this time?
We're really starting to see some important changes in Japanese work culture, and how the traditional workplace is viewed. Japan has traditionally held presenteeism at the core of its work culture. To show up to the office every day, and work hard alongside your colleagues has been a stringent philosophy on which the Japanese economy has been built. However, over the last few years, the COVID-19 pandemic forced the country to rethink its approach to work in the wake of social distancing. Employees were instructed to work remotely and offices were obliged to meet never-before-seen health regulations and guidelines. We now find ourselves in a world where traditional ways of working have evolved into more of a hybrid work culture and corporations have opted to shift towards more flexible working arrangements. Having greater freedom of choice in access to workstations, meeting rooms and even working locations has now become an invaluable asset to corporate set-ups. From an employee perspective, the utilisation of flexible working arrangements is now seen as fundamental in achieving the optimal work-life balance required for maximum performance. In fact, over 57% of our Japanese clients recently surveyed have said that achieving work-life balance is the most important factor to them and, out of all our surveyed locations, Japanese members were most likely to base their decision on where to work on the back of where they can find the best work-life balance. In achieving this, location has been highlighted as a factor of particular significance. Other data shows that over 75% of surveyed Japanese members have been led to see flexible work in a more positive light in the last few years and the vast majority see a hybrid model between the office and home/third space as the most favourable option. In short, more than ever flexibility has become crucial to the modern Japanese business model. More flexibility in terms of leases, more flexibility regarding which location they could work from and more spacious workspaces with the flexibility to work in their private office or in the breakout areas when they wished. These are all factors which have become crucial to companies and their staff.
How have the work habits of your finance industry clients changed in recent years when there seemingly has been an increased demand for flexible and hybrid work solutions?
Since the COVID-19 pandemic, we have seen a noticeable increase in the willingness of large finance industry clients to use flexible/coworking spaces such as ours. Three of Japan's biggest banks, Mitsubishi UFJ Financial Group, Sumitomo Mitsui Financial Group and Mizuho Financial Group, have openly started embracing more flexibility in the workplace. They are listening to employee feedback which suggests that productivity has increased with remote work. Currently, only about 60% of those working at MUFG's Tokyo Headquarters go to the office. Remote work is now a real possibility for employees in the finance industry in a way that it was not prior to the pandemic. This is largely due to the development of cybersecurity systems during the stages of the pandemic in which remote work was enforced. Whereas in the past finance workers would rarely handle confidential data and company devices outside of their office, due to security risks, the development of cyber security during work from home has opened up the possibility for workers to use their devices outside of their traditional office space. Thus, flexible/coworking spaces such as ours are now seen as more viable to finance industry workers than prior to the pandemic. In fact, the security of working within a safe, protected flexible workspace such as TEC centres presents an outright preferable alternative to working in public spaces such as cafés.
Here in Japan, anecdotal evidence points to many office workers not being keen on WFH, partly because many people live in small apartments with little room for work or study from home. How has this impacted TEC and what you can offer professionals that can't, or don't want to, work from home?
Whilst we have certainly begun to see a global uptake in WFH, this does not mean that it is altogether the ideal working solution. There are frequent distractions and inconveniences possibly from family members, children, pets, Wi-Fi issues and, as you have rightly pointed out, Japanese city apartments are often small which does not make for an ideal workspace. In an Executive Centre (TEC) workspace, however, our members can expect a professional space designed to provide comfort, focus and productivity. This is particularly evident in the fit-out of our workstations, where our Herman Miller chairs and height-adjustable standing desks are ergonomically designed to enable healthier working postures than you may enjoy at home. The very designs of our workspaces aim to cultivate an atmosphere which mitigates the stress one may feel in a traditional office space or working from home. As an example, one of our newer TEC Centres at Meguro Arco Tower which opened in Q4 2020, integrates into the design of the centre more natural aesthetics which were inspired by the traditional principles found in Japanese culture; harmony with nature are perfectly articulated throughout the premium design, from the circular gates to the coworking booths, natural elements such as the use of wooden and stone flooring, flooring with pebbles representing unity and harmony could be found, which entices a more natural and comfortable working environment. For those who cannot work from home, but want to work in an atmosphere of professionalism, comfort and focus, The Executive Centre is the ideal workplace solution.
Can you share some examples of the new needs companies have nowadays for their offices in Japan and how TEC has been able to assist them?
The most important quality which our clients look for in a modern office space is flexibility. The ability to upscale and downscale one's office space in accordance with changes in the market. It makes increasingly less sense to lease a fixed space in a traditional office setting when it is unclear how many personnel will be using the office. Whilst financially it makes sense to cut back on the disused workspaces of those working from home, companies must also have the ability to increase workstations with ease in accordance with expansion or changing market conditions. The world is still figuring out its new systems of work in the light of WFH and many countries such as Japan are currently facing large economic instability on the back of a turbulent global scene. Fixed traditional office spaces and contracts seem increasingly risky for these reasons, and flexible spaces are the best solution to mitigate this risk. Having access to this scalability and more flexible contract terms has become crucial in a market which seems ever more susceptible to sudden or unpredictable changes.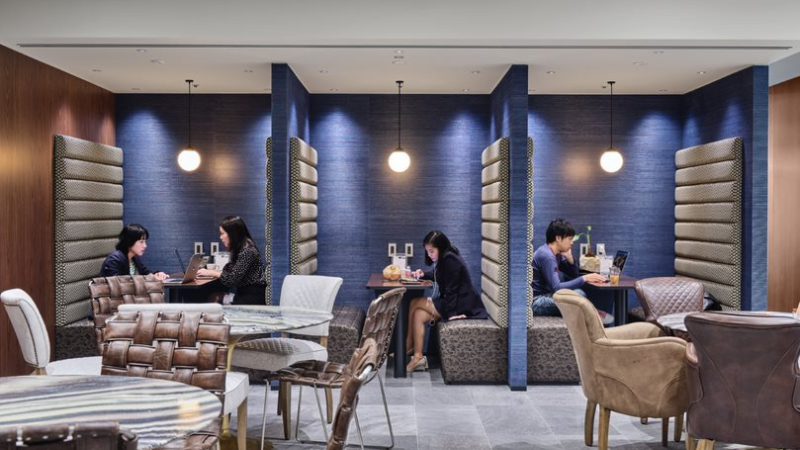 Do your financial industry clients, such as fund managers and fintech firms, differ in what they want when it comes to office solutions compared to other types of clients?
The needs and habits of financial industry clients with regard to office space greatly differ within the actual industry itself, with each different area seeing our private office solutions as useful for a variety of reasons. Whereas fintech companies generally enjoy the flexible scalability of private offices as they may look to expand, many private Investment companies enjoy operating in consistent, smaller-scale teams and see little need to invest in traditional office space. Many of our small and start-up finance industry companies see great value in staying with us not only because it requires minimal effort to set up, but the level of security offered by our buildings actually allows them to more easily acquire a finance license in Japan. From the perspective of new market entry, there is great appeal in serviced offices such as ours. A noticeable trend we are seeing amongst large finance corporations is that they like to utilise our space for project teams. Often when a bank has already taken out traditional office space in the same building as our centres, they like to utilise our flexible solutions to create space for their breakaway project teams.
As Japan continues to ease Covid-related restrictions, what do you think will be the big trends, issues and opportunities in the workspace?
With the looser restrictions, Japan could draw approximately 15.3 million international travellers in 2023, which is expected to lift gross domestic product (GDP) by 0.74% in 2023 from annualised GDP for the April-June quarter, before the easing. Thus, we can expect higher demand for flexible office spaces such as ours amongst international companies and workers who are now able to enter Japan. Although domestic companies are easing their restrictions, it is important to understand that change in Japan is often steadier and more gradual than you might expect in the USA and Europe, so we are still very much in a transition phase. However, it seems there is a gradual increase of in-person interaction again. In-person events and meetings are much more feasible than they were just a few months ago. In general, the complications Japan faces lie in how it adapts its work culture to the post-pandemic world. It will become increasingly more difficult to implement the same level of presenteeism as was expected before COVID. Yet it would be wrong to assert that it is no longer important because it still is. Hybrid models of work, where staff are split between the office and other workspaces, will become more commonplace in Japan. As with everywhere else, flex work is very much the future.
The Executive Centre is proud to partner with Hedge Funds Club to offer its members an opportunity to thrive professionally, supported by our exceptional spaces, and the collective expertise of a global network.
www.partnerships.executivecentre.com/hedgefundsclub